Dear friends, neighbors and animal lovers,
We hope that you are keeping well and safe.
Since the onset of COVID19, we have received many applications to foster but, unfortunately, due to a lack of resources (volunteers, funds, veterinary care and time) our current need for foster homes is limited.
That said, we are always on the lookout for temporary homes that might be able to fill a unique need, such those experienced with bottle feeding kittens or who can comfortably manage a feral cat or cats recovering from an illness or injury. Additionally, needs can change suddenly, so please feel free to submit an application to foster anyway! Given the lack of resources, we thank you for your patience and understanding with what might be a slow response time.
If you are interested in adopting, please see the "Our Cats" page for the cats and kittens who are currently available to adopt and be sure to check back as the list is updated periodically when new cats and kittens become available.
Be well, everyone. Good Home wishes for the very best outcome for you and your loved ones during this uncertain time.
Yours truly,
Bronwen Sommer,
Director, Good Home
——————– 
Thank you for your interest in fostering for Good Home Pet Adoptions!
The role of the foster home is incredibly important. You are a home-based shelter system. With your love and support, lost or abandoned companion animals can feel safe and loved again and, most importantly, find a forever home. We can't do this without you!
All is negotiable, however it is ideal if our foster homes can:
Cover the cost of daily care (food, litter, bedding, toys, cat sitting if you plan to be away for a day or two, etc)
Cover the cost of transport to and from veterinary appointments (not usually necessary but the occasional need will arise. Good Home will cover the cost of the vet appointment)
Be as involved as possible with the animal's care and adoption, from behavioral assessment and social media posts to accommodating visits from prospective adopters
At present we are accepting applications for cat/kitten foster homes only. Please check back, as we love dogs too and in the future will be needing foster homes for dogs as well.
We Need You!
Your donations help to support our work in so many ways. All of the cats under our care need veterinary care and most need to be spayed or neutered. They need food, a safe place to live while transitioning off the street and time for proper assessment so we can make the best placement for them.
Donations will help us to offer TNR training, maintain a trap bank and offer solutions for street cats in need. They help us fund special projects, such as transportation to other locations, public outreach and education campaigns to raise awareness about the importance of spay-neuter and the crucial need to keep intact cats indoors.
$5 feeds several cats for one day
$10 covers deworming meds
$25 pays for a FeLV/FIV test
$50 covers a basic vet visit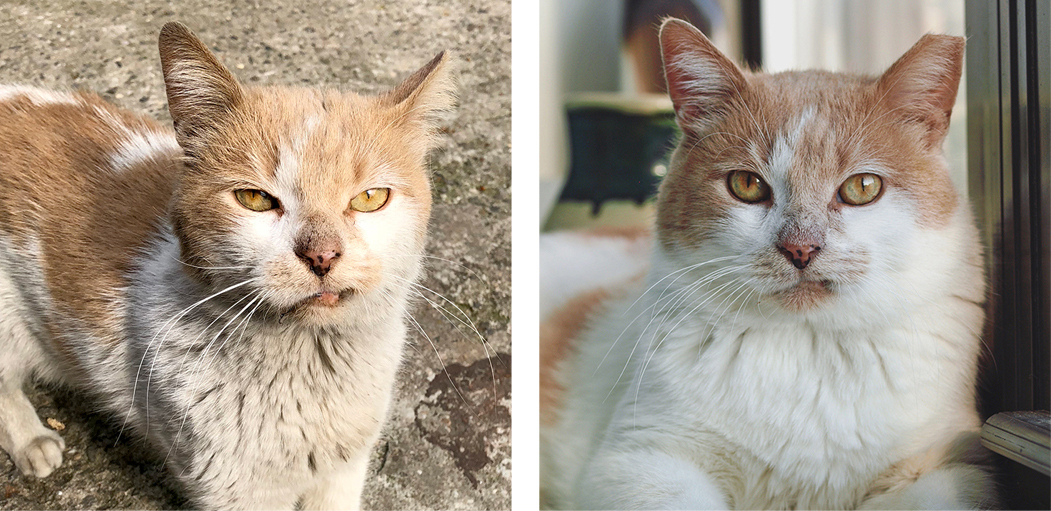 All donations make a
difference to our cats!